Kilimanjaro
Climbing to the peak of Africa
To climb Kilimanjaro means passing through four seasons in four days, from the tropical forests of the lower regions to the tundra of the higher ones, from the alpine deserts to the arctic of the summit.
Situated in Northern Tanzania, near the Kenyan border, Mount Kilimanjaro rises 5,896 meters above sea level and is both the highest mountain in Africa and the tallest freestanding mountain in the world. Who wouldn't want to climb such a marvel of nature? The climb is not an easy one, but it is an incredible and worthwhile experience. It is composed of three volcanic cones: Kibo (5895m), Mawenzi (5149m) and Shira (3962m).
Kilimanjaro view from a tent
Kilimanjaro routes
The route you choose is important. There are currently 6 official routes: Marangu, Rongai, Lemosho, Shira, Umbwe and Machame.
Of all the routes, Machame (7 days), situated in the south-west, is without doubt the most beautiful in terms of scenery, but it is also very steep. It is also known as "The Whiskey Route". It is the route with the highest success rate of reaching the top.
Marangu (5days), also known as "The Coca-Cola route", is the oldest and most popular route. Starting in the southeast, the entrance is located in the heart of the forest. It is relatively easy and is the only route that has huts for each part of the climb.
The Rongai (7 days) route is a relatively easy route and also the most recommended during the rainy season (March-May) as it receives the least amount of rainfall. It is also less crowded than the popular Marangu and Machame routes.
The other routes – Umbwe, Shira (6 days are recommended) and Lemosho (8 days), known for their difficulty, are only recommended to experienced climbers. Due to the fact that they are less frequented, they are much less crowded.
Kilimanjaro village by bike
Recommendations:
We recommend adding a relaxing day trip or two to follow up your Kilimanjaro climb – such as the Hot Springs or Lake Chala.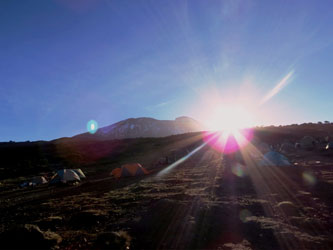 Kilimanjaro sunshine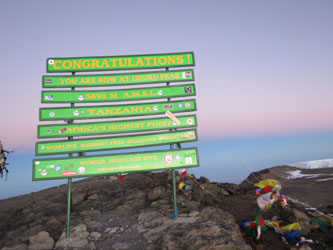 Kilimanjaro summit Uhuru peak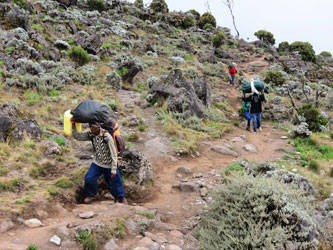 Kilimanjaro mountain porters
Location: